!>


Main Pages: [ SpaWx Indices Home | NWRA Home Page | ]
Graphics: [ X-ray | F10 | Ap | F10/Ap Forecasts | SSNe | SSN Comparison | 24hr SSNe | Kp+GOES+DSCOVR | Qe+GOES+DSCOVR ]
Listings/Reports: [ Indices Table | Events | RSGA | Discussion | SGAS | SRS | Predict ]


The data in this plot are from the 1-8 Angstrom (10-80 nm) x-ray sensor on one of the NOAA GOES satellites. Provided are the daily lower-decile x-ray flux (curves) and the daily peak flux (dots and circles) for the last 17 days (heavy curve and dots) and for the previous solar rotation (light curve and circles). The ranges of the standard x-ray flare classifications (A,B,C,M,X) are indicated along the left and right boundaries of the plot area.
These data were downloaded from the NOAA Space Weather Prediction Center servers (file xrays-1-day.json).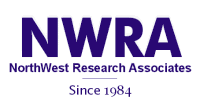 [ Home | About NWRA | Staff | Research Areas | Products ]

Copyright © 1996-2022 NorthWest Research Associates, Inc. All rights reserved.