!>


Main Pages: [ NWRA Space Weather Services Home | SpaWx Indices Home | Scintillation Home | Scintillation Services Home | ]
Graphics: [ F10 | Ap | F10/Ap Forecasts | SSNe | SSN Comparison | 24hr SSNe | Kp+GOES+DSCOVR | Qe+GOES+DSCOVR ]
Listings/Reports: [ Indices Table | Events | RSGA | SGAS | SRS | Predict ]
26 Mar 2020 : UPDATE
As is everything else these days, the work needed at the NCEI end to provide access to near real-time foF2 data is delayed UFN by the COVID-19 pandemic.
08 Mar 2020 : UPDATE
I am working with the NCEI to download foF2 data from their servers and am now able to generate SSNe estimates after-the-fact. I plan to be running a daily updated SSNe analysis in the next few days, and hope to be back to hourly within the month.
28 Feb 2020 : Note Regarding Current SWPC Policy on Ionosonde Data
I have been notified by Chris Lauer of the Space Weather Prediction Center that they will no longer be providing real-time ionosonde observations. After providing these data since 1997 the SWPC has now decided that these data are "not considered operational." I have been directed to the National Centers for Environmental Information (NCEI) as a source for these data. This will require major changes to my download and processing system, so it may be a while until this product comes back on line, if ever.

NWRA Space Weather Links
[ Space Weather Home Page | Scintillation Home Page ]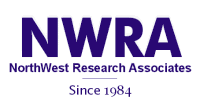 [ Home | About NWRA | Staff | Research Areas | Products ]

Copyright © 1996-2020 NorthWest Research Associates, Inc. All rights reserved.