!>


This maps shows lines of constant geomagnetic latitude based on apex geomagnetic coordinates referenced to an altitude of 350km. The geomagnetic equator is indicated by a dashed line. The coordinates were calculated using the IGRF-1985 geomagnetic field model updated to epoch 1990.0.
The coordinate system used here is a modified version of apex coordinates as defined in the following reference:
VanZandt, T.E., W.L. Clark, and J.M. Warnock, Magnetic Apex Coordinates: A Magnetic Coordinate System for the Ionospheric F2 Layer, J. Geophys. Res., 77, 1972.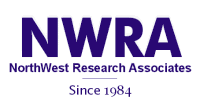 [ Home | About NWRA | Staff | Research Areas | Products ]

Copyright © 1996-2023 NorthWest Research Associates, Inc. All rights reserved.