!>


Main Pages: [ SpaWx Indices Home | NWRA Home Page | ]
Graphics: [ X-ray | F10 | Ap | F10/Ap Forecasts | SSNe | SSN Comparison | 24hr SSNe | Kp+GOES+DSCOVR | Qe+GOES+DSCOVR ]
Listings/Reports: [ Indices Table | Events | RSGA | SGAS | SRS | Predict ]
This page links to plots comparing ionospheric parameters calculated from models using effective SSN values (the NWRA and the IPS T-index values) to foF2 observations and 7-day means for a variety of stations. Note that not all of the data shown in these plots went into the SSNe calculations. All stations above a geomagnetic latitude of 50deg were excluded, and some of the data were not received prior to the SSNe calculations.
The foF2 parameter shown in these plots, and used in generating the two effective SSN indices, is defined as the highest frequency which will reflect from the main (F2) layer of the ionosphere on a vertical propagation path. It is measured at a number of locations around the world using an instrument known as an ionosonde. The "o" in foF2 indicates that it is for the "ordinary" propagation mode (as opposed to the extraordinary, or "x", mode). More details on this measurement and on ionosondes can be found at the National Centers for Environmental Information (NCEI) ionospheric WWW site.
All plots have the same format as the one shown above. The foF2 observations for the UT day from the station are plotted as + symbols, and the 7-day mean foF2 are plotted as * symbols. The lines are foF2 values calculated from the CCIR foF2 model (the URSI-88 coefficients) using the NWRA SSNe (solid line) and the IPS T (dashed line).
To hourly SSNe24 plot
To 24-day SSNe24 plot
---
[NOTE: Stations marked with an * were not included in the SSNe calculation either because they are above the high-latitude cutoff
(poleward of 50deg geomagnetic latitude) or because they were excluded for data quality reasons.]
---
AKNOWLEDGEMENT:
The fof2 data used in these plots came from the NOAA Centers for Environmental Information.
The IPS T index came from the Australian Bureau of Meteorology Space Weather Services organization..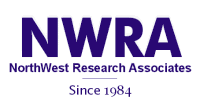 [ Home | About NWRA | Staff | Research Areas | Products ]

Copyright © 1996-2021 NorthWest Research Associates, Inc. All rights reserved.