!>


Main Pages: [ SpaWx Indices Home | NWRA Home Page | ]
Graphics: [ F10 | Ap | F10/Ap Forecasts | SSNe | SSN Comparison | 24hr SSNe | Kp+GOES+DSCOVR | Qe+GOES+DSCOVR ]
Listings/Reports: [ Indices Table | Events | RSGA | SGAS | SRS | Predict ]
---
I was recently asked about relationships between the 10.7 cm solar radio flux (F10.7) and the observed sunspot number (SSN). The above plot shows the variation of F10.7 as a function of SSN for the time period 1 January 1997 through 31 December 2008. The heavy solid line shows the variation of F10.7 with SSN as predicted by the equation presented on the previous page. The heavy dashed line is a simple linear least-squares fit to the data and the dotted lines are one standard-deviation away from the fit.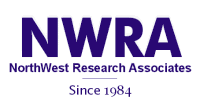 [ Home | About NWRA | Staff | Research Areas | Products ]

Copyright © 1996-2020 NorthWest Research Associates, Inc. All rights reserved.