!>


Main Pages: [ SpaWx Indices Home | NWRA Home Page | ]
Graphics: [ X-ray | F10 | Ap | F10/Ap Forecasts | SSNe | SSN Comparison | 24hr SSNe | Kp+GOES+DSCOVR | Qe+GOES+DSCOVR ]
Listings/Reports: [ Indices Table | Events | RSGA | Discussion | SGAS | SRS | Predict | NWRA SSNe ]


This plot illustrates the differences between the Estimated International Sunspot Number (EISN), which is calculated from optical observations of the sun, a sunspot number derived from the 10.7cm solar radio flux (SSNf), and a sunspot number derived from fitting an ionospheric model to ionospheric measurements (denoted the effective sunspot number (SSNe) index). All of these indices are used as inputs to models of the ionosphere for use in communications-performance predictions - this plot shows that they don't always agree as to what the SSN should be in that particular context.
The algorithm used to calculate the F10.7-derived SSN (SSNf) parameter is described here.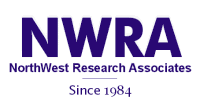 [ Home | About NWRA | Staff | Research Areas | Products ]

Copyright © 1996-2023 NorthWest Research Associates, Inc. All rights reserved.