!>
Global distribution of ionospheric plasma-density irregularities for 1300 UT on 21 March 2000 based on scintillation climatology.
Welcome to the Northwest Research Associates (NWRA) scintillation prediction pages. We have designed this WWW document to introduce the casual browser to ionospheric scintillations and their effects on a wide range of satellite-based systems. Included are a set of forecasts of scintillation effects for the next 24 hours and predictions for what conditions will be like at the next maximum in solar activity, predicted to be in the year 2000 by the NOAA Space Environment Center (SEC). All predictions and forecasts are generated from our scintillation-effects tool (SCINTMOD) using predictions of the state of the geophysical environment provided by the NOAA SEC. Additional information about the ionosphere can be obtained from the Solar Terrestrial Physics (STP) group at the National Geophysical Data Center (NGDC).
---
For more information on scintillation or SCINTMOD, send e-mail to: scint@nwra.com
---
Other Space Weather Pages

NWRA Space Weather Links
[ Space Weather Home Page | Scintillation Home Page ]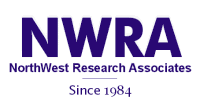 [ Home | About NWRA | Staff | Research Areas | Products ]

Copyright © 1996-2020 NorthWest Research Associates, Inc. All rights reserved.